We're Here For You: Important Message from East Coast Toyota
Updated: May 20, 2020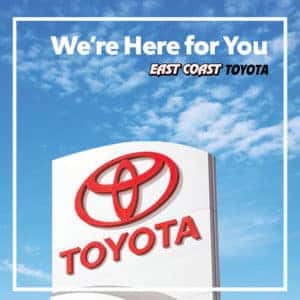 Governor Murphy announced effective at 6:00am on Wednesday, May 20: "in-person sales at auto and motorcycle dealerships and bicycle shops may resume." All in-person sales activity at dealerships will be by appointment only, and further, we understand that the Governor's pre-existing Executive and Administrative Orders governing retail activity will still apply. Accordingly, the pre-existing strict social distancing, cleaning, and personal protective equipment requirements will extend to all retail customer interactions for the foreseeable future. 
---
March 16, 2020
If you are in need of a vehicle or vehicle maintenance, trust that we are here for you and are open for business to serve the people in our community. We are open with limited staff and reduced hours, in our commitment to ensure that we do our part in this crisis with health and safety in mind for our customers and employees.
As our community is impacted by coronavirus (COVID-19), our goal is to ensure your mobility and to continue to meet your service needs. Our service department is open for business Tuesday through Saturday from 8am to 2:30pm. We're taking extra precautions provided by the CDC to help keep you and our employees safe during our services.
Our Toyota trained technicians are on standby to keep your vehicle safe with routine service checks, or in the event of an emergency.
Enjoy complimentary pick up and drop off of your vehicle (please contact us for more details)
Schedule your service appointment online at eastcoasttoyota.com
Disinfecting services are available with car detailing packages while your vehicle is being serviced.
We're also offering daily vehicle rentals at a discounted price. Normally $55 a day, we're offering rentals for $35 a day with unlimited miles.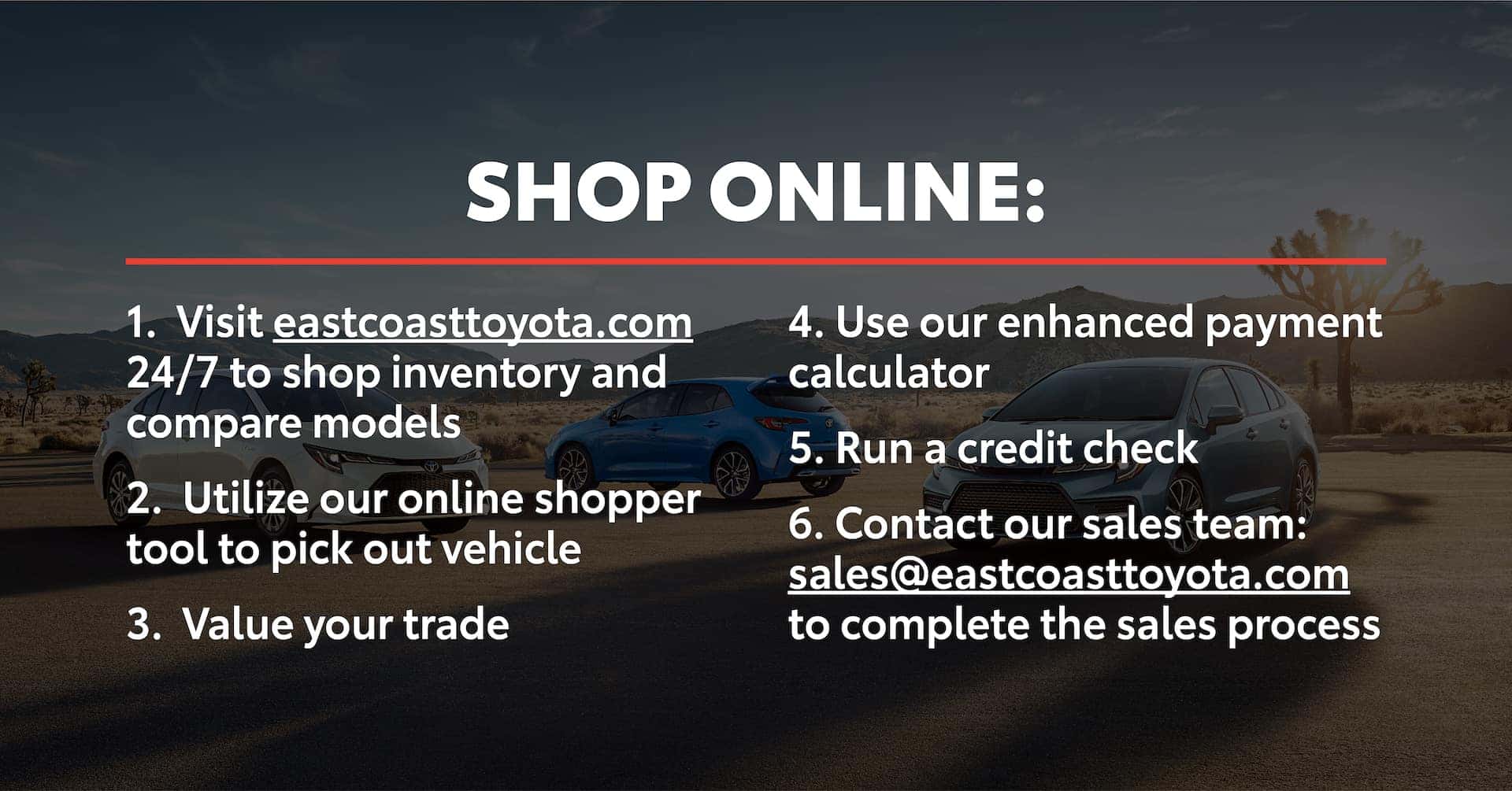 Now, thanks to Governor Murphy's Executive Order 107 clarification, we are offering home or office delivery on new & used vehicles. Contactless Virtual Delivery of your vehicle is included.
From the comfort and safety of your home, you can view your vehicle options, request a quote, use our financing calculator and complete your transaction online. Our new contactless delivery allows you to pick up your new vehicle from our service driveway, hassle free. Or, we can deliver your new vehicle directly to your home. For test drives, utilize our Rental at no cost to you. Our sales showroom is still closed to the public. If you are in need of a vehicle during this time, we ask you to please email sales@eastcoasttoyota.com. We have operators on standby to answer your requests. Inquiries are by appointment only, please do not show up to the showroom. Please call for more details.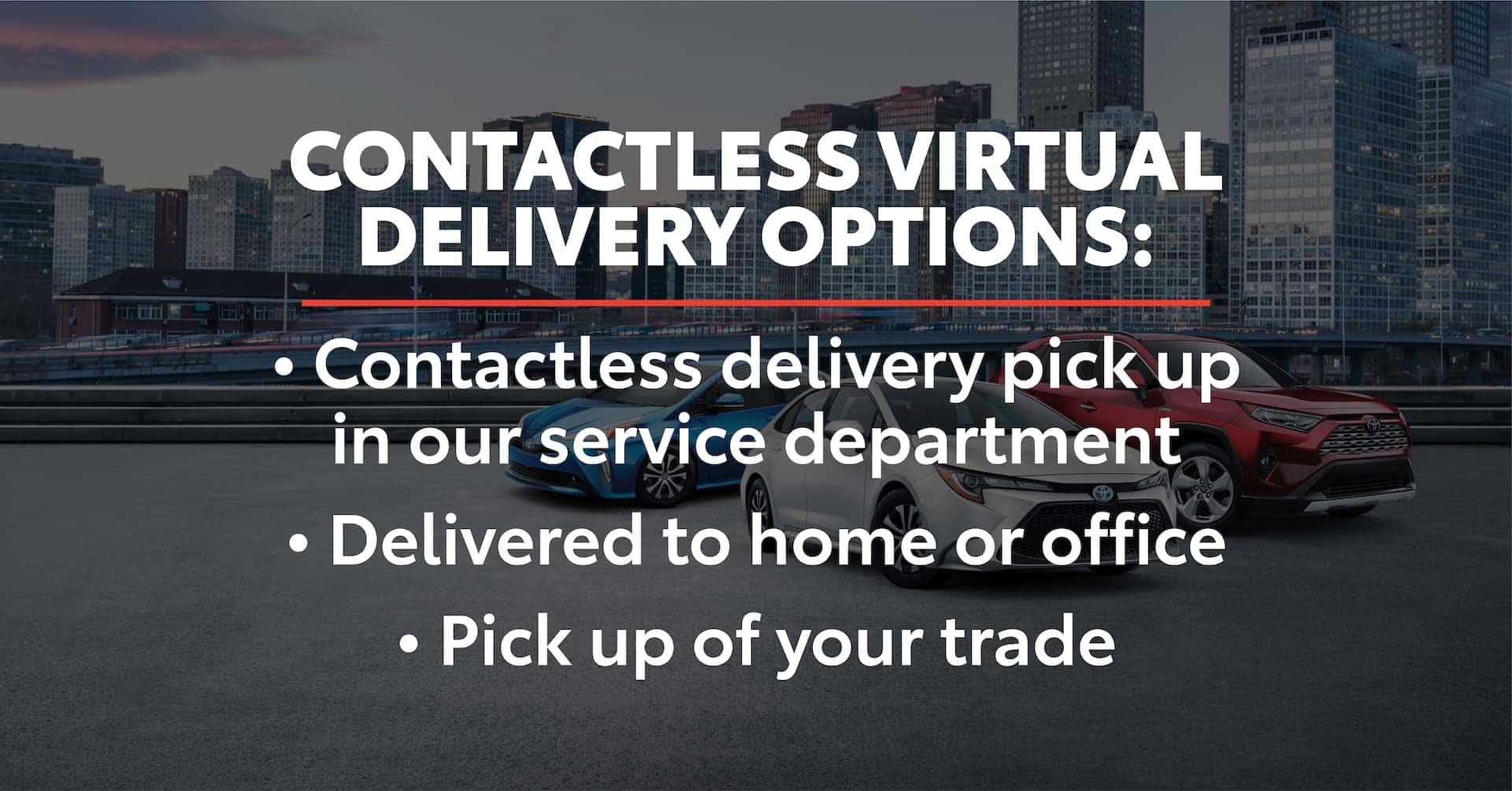 Thank you for trusting East Coast Toyota for support during this time, and we'll continue to relay any crucial updates regarding business operations as they arise.