Hybrid Used Cars for Sale in Wood-Ridge, NJ: Pros & Cons From a Local Dealership
Thinking of buying a hybrid car? There's never been a better time! As the public grows aware of environmental issues caused by fossil fuel and emissions, hybrid cars have started to gain popularity. Their reduced impact on the environment is just one quality (among many) that makes them appealing.
If you don't know much about hybrids, we'll go through their chief pros and cons, and list some car specs and statistics to give you an idea of what it would be like to own your very own hybrid.
So now, let's get started.
Pros of owning a used hybrid car:
Save money due to less fuel consumption
Hybrid cars have two or more engines – such as a diesel-operated engine and an electric one. If you use the electric engine more than the gas-operated engine, you'll need to buy less gas, so you'll end up with a decent stack of savings at the end of the year.
Produce lower emissions and help the environment
Most people are aware that car emissions are awful for the environment. They pollute the air, and contribute to global warming – both of which are worrying problems. Electric cars have been gaining popularity because they're "green", aka better for the environment. If you're looking for used cars for sale, Wood-Ridge dealership East Coast Toyota strongly advises that you consider the car's environmental impact.
You can buy a used hybrid for the price of a newer, gas-only model
Gas-powered cars, while generally less expensive than hybrids, are becoming rapidly outdated as technology leans towards the eco-friendly. Hybrids are cheaper to use, better for the environment, and you can now get a used one for the price of a new(er) gas-powered car! We'll be checking out some of the used hybrids' price tags a little further on.You won't believe your eyes!
Avoid the (huge) initial deprecation hit on a new hybrid
Second-hand is automatically worth half the price. As soon as you buy it, a car is worth less than what you bought it for – at least if you try to sell it. Why bother with a new hybrid car when you can buy one that's almost-new for less than half the price? Avoid the massive initial deprecation by investing wisely in a good used car instead.
Less wear on brake pads and transmission
Hybrid cars have an electrical drive, which results in less wear on the brake pads and transmission as compared to gas-only models. This means that you'll save on some repair and maintenance costs which you would normally incur on a traditional car.
So far, used hybrid cars look like a pretty sweet deal. But wait! There are a cons to be aware of.
Cons of owning a hybrid car:
Repairs for hybrids can be more expensive than for gas-only cars
Repair cost is one of the first factors you should take into account when looking for used cars for sale. Wood-Ridge dealership East Coast Toyota advises that you carefully assess the car's current state, determining what issues it has (if any) which might need repairing. Look into repair costs, and decide whether it's within your budget. (And remember, East Coast Toyota's Service Department is just a call away to help you with any repairs!)
Expensive battery that might need to be replaced
Used vehicles often come without a warranty. If you buy a used hybrid car and its battery dies, you'll probably find yourself looking at a major expense. Hybrid batteries cost in the thousands (usually 3-5K), and a used vehicle is always more susceptible to problems like these. Even a repair job, as mentioned in the point above, would likely be expensive.
So, what's the verdict? We rule in favor of hybrids, because the pros seem to outweigh the cons as long as due research is done and the car's carefully inspected before purchase. However, we'll let you be your own judge.
Start by taking a look at some of our current inventory. If you're looking for used cars for sale in Wood-Ridge NJ, East Coast Toyota has a great selection you can choose from. Some of our cars are less than a couple years old!
And if you ever have additional questions about hybrid cars, the experts at East Coast Toyota would be happy to give you a tour and talk through any of your concerns.
Find the best used cars for sale in Wood-Ridge dealership, East Coast Toyota:
With the 2019 version hitting the lots now, you might find some excellent used ones on the market, as people trade in their older models for the latest one. This is one such car.
It's very new, as you can see. It has 11,274 miles on the dash, and is overall in great condition. The car comes in a metallic blue, and has a highway mileage of 47 mpg. It's priced at an incredible $32,993 – and don't forget to bring a printed copy of the discounted online price with you!
Here are some of the car's features:
2.5L I-4 DOHC hybrid engine
Regenerative 4-wheel disc brakes with 4-wheel ABS, front vented discs, brake assist, hill hold control and electric parking brake
Gas-pressurized shock absorbers
Front wheel drive
Lane Departure Alert (LDA) with steering assist and lane keeping assist
Multiple airbags for driver and passenger safety
Rear child safety locks
Tasteful sand beige colored interior
The Toyota Camry is one of America's bestselling cars year after year. In the 2018 countdown by Kelley Blue Book, the Camry took pride of place in the #2 spot. With an expert rating of 9.4/10, this is as good as it gets. If you're new to the world of hybrids and looking for a car that ticks all the right boxes, this model is it. 100% recommended by East Coast Toyota.
This fiery red stunner with a classy leatherette interior has a mere 15,008 miles on the dash, and can be yours for as low as $25,995! The internet price includes a $4,505 discount, so don't forget to bring a printout of the page with you.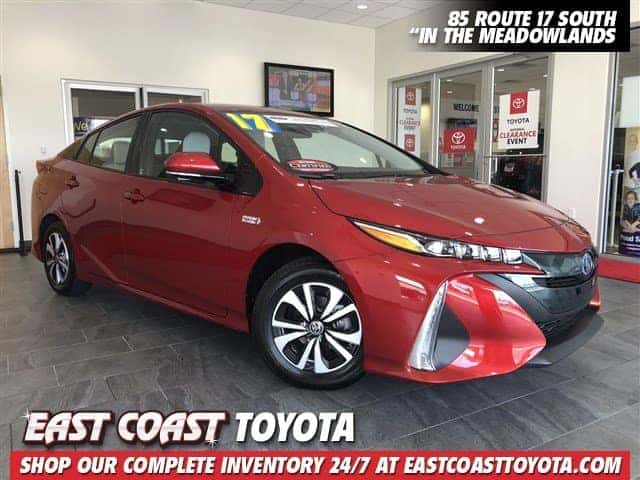 Let's take a look at some of its specs:
Lithium ion traction battery with 5.5 hours charge time at 110/120V, and 2.1 hours charge time at 220/240V
1.8L 4-cylinder DOHC 16V VVT-I engine (gas and electric)
Regenerative 4-wheel disc brakes with 4-wheel ABS, front vented discs, brake assist and hill hold control
Strut front suspension with coil springs
Multiple airbags for increased safety
Back-up camera
Electronic Stability Control (ESC)
Cruise control with steering wheel controls
Manual anti-whiplash adjustable front head restraints and manual adjustable rear head restraints
The Prius is widely believed to be one of the best hybrid cars in America. Kelley Blue Book agrees! In their 2018 list, Toyota Prius Prime occupies spot #3. It's definitely one of the best used cars for sale in Wood-Ridge right now.
This eye-catching blue car has a stylish black interior, and 13,494 miles on the dash. Like it? It's available for $22,995 – which includes a special six thousand dollar discount. Grab it before the rate goes up!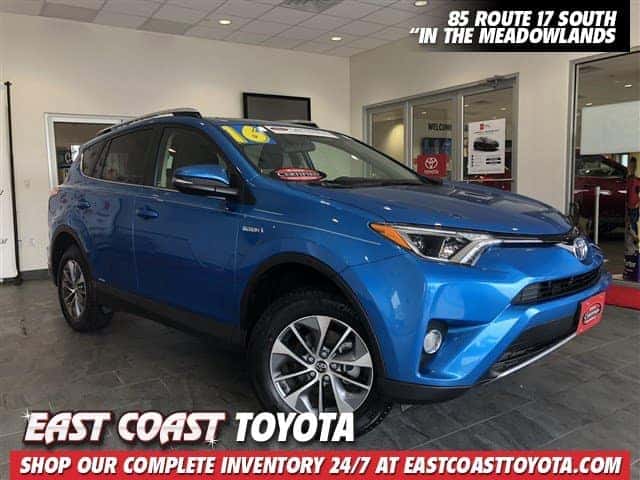 The car has some great features. Here are some of them:
2.5l 4-clinder Atkinson Cycle engine
Regenerative 4-wheel disc brakes with 4-wheel ABS, front vented discs, brake assist, hill hold control and electric parking brake
550CCA maintenance free battery with run down protection
Strut front suspension with coil springs
Engine immobilizer
Leather steering wheel
Multiple airbags (front, side, knee, passenger, curtain) for all-round protection
Cruise control with steering wheel controls
Remote keyless entry with integrated key transmitter, illuminated entry, illuminated ignition switch and panic button
The 2016 Toyota RAV4 has a 9.1/10 rating on the Kelley Blue Book website, and was among the top expert rated hybrid cars of 2016. Take it for a test drive today!
This previously-owned hybrid has a red exterior (picture currently unavailable), 48,470 miles on the dash, and a highway mileage of approximately 28 mpg. It can be yours for the low, low price of $20,995!
The car includes some fantastic features. Let's take a look at some of them:
3.5L DOHC MPI 24-valve VVT-i V6 engine with permanent magnet motors
Electronically controlled brake system (ECB) with regenerative control
Front and rear stabilizer bars
Rear privacy glass
Anti-lock brake system (ABS) with brake assist
Driver and front passenger advanced airbag system with occupant classification sensor
Vehicle stability control (VSC) with traction control (TRAC)
Power windows and door locks
Splendid entertainment features, with a CD player, MP3 player, auxiliary audio input, Bluetooth connection, 6 speakers, and steering wheel audio controls
It's an older model, but we think this one's still a winner. And we're not the only ones that think so! Toyota Highlander has an 8.9/10 expert rating, and an 8.5/10 consumer rating on Kelley Blue Book. Furthermore, the 2011 Toyota Highlander featured at number 5 on KBB's top cars list for the year!
East Coast Toyota has many more available models with great savings, and the option to check availability and/or schedule a test drive online. Also take a look at our other blog posts, which cover useful topics that'll help you buy the right car. If you have any questions, get in touch!